Continuing our series regarding some of the highlights from the community work in Ethiopia we find Akaki Kalehiywot Church also in Addis Ababa, Ethiopia.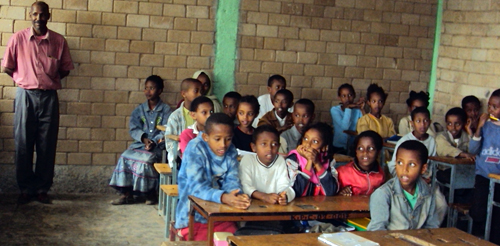 Community: Addis Ababa, Ethiopia
| | |
| --- | --- |
| | This church has been executing various activities including the provision of education, health and other social services. |
For some of the most needy members of the community the church has been able to offer rented houses for the families enabling the children to live close enough to attend school..
Structured in a similar fashion to Antioch Faith Baptist Church, many families are able to send their children to receive education either for free or a reduced price. School materials and uniforms are also covered under this support.
Akaki Kalehiywot Church offers a broad range of informational meetings addressing societal problems such as HIV/AIDS, environmental sanitation, and income generating activities. Through these meetings the church is able to raise awareness and create steps towards correcting these problems.
After grouping the selected beneficiaries of the loan services into 12 groups of 17 people, the church trained the groups on topics ranging from methods of establishing businesses with limited financial resources, to procedures and vision casting for business.  Upon completion of the training and briefing of the loan procedures, the beneficiaries are able to obtain loans to start-up their own small business or income generating activities.

We would love for you to check back tomorrow as we highlight Nazareth Emmanuel United Church, a church that has been aggressively using and implementing the wholistic ministry strategy.