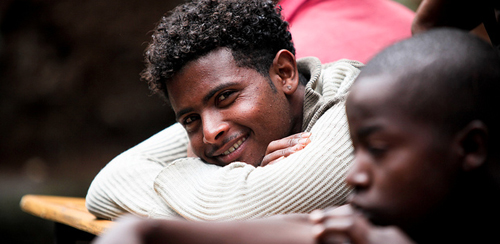 By definition the word community means a unified body of individuals.  One of the main focuses for LIA in 2010 will be strategically linking passionate and committed localized communities, in the form of small groups, businesses, schools, churches, etc., with our community initiative throughout Africa.  Our goal is long-term partnerships that share prayer and resources while focusing on building each other up in unity as the body of Christ.  We believe that each community will be empowered by this collective unity.
Two communities began a pilot project of this initiative just a couple months ago.  In October of 2009, Cedar Ridge Christian Church in Olathe, Kansas began a partnership with the Merkato community in Addis Ababa, Ethiopia.  A team from the church traveled to Merkato to learn about the community and met the street kids and families that comprise a targeted kebele (small area) of Merkato.  Over the course of time spent there, a deep bond was formed between the Cedar Ridge community and the church workers, children, and street boys in Addis Ababa, Ethiopia.  True community developed through this time as lives were shared and needs from both communities were recognized.
One of the team members, Allyson Cheney (check out her blog), captured some of the moments of this unified time together, and compiled a 25-minute video together.
Check it out!